After Surging 60% in Two Weeks, Ethereum Just Printed a Reversal Sign
Even factoring in the flash crash on the weekend, Ethereum is still up by approximately 60% in the past two weeks.
ETH is printing a reversal sign after this extremely strong rally, per a Telegram channel tracking certain technical analysis signals.
The signal predicts that Ethereum will undergo a bearish reversal in the coming days.
ETH may be saved by a drop by Bitcoin bulls, which should drive the overall direction of the crypto market.
BTC is showing signs it wants to move higher in spite of the weekend flash crash, which saw the asset rejected at a pivotal level.
Ethereum Prints Harrowing Reversal Sign Once Again
A Telegram channel tracking instances of Tom Demark Sequential signals just reported that Ethereum is printing bearish reversal signals.
The channel published the chart below on August 5th, noting that Ethereum has formed "sell 9 + C-13" candlesticks on its daily chart.  Per the Tom Demark Sequential, ETH should undergo a correction in the coming days should the indicator classically play out.
Chart of ETH's price action with Tom Demark Sequential overlay over the past six weeks from TradingView.com. Chart by Telegram channel tracking TD Sequential
All Eyes on Bitcoin
Although Ethereum may be printing a reversal signal in isolation, at the end of the day, Bitcoin's directionality is all that matters. All cryptocurrencies, after all, are closely tied to the price action of BTC on a macro scale.
Fortunately for ETH bulls, analysts are currently expecting more upside for the price of BTC.
According to Bloomberg, technicals are printing signs that Bitcoin is primed to move higher after last week's break of $10,000. Matt Maley, the chief market strategist for Miller Tabak + Co, told the outlet
"The break above $10,000 is very compelling and should lead Bitcoin higher… It might be able to work off this condition with a sideways correction, but its upside potential is limited over the next week or two."
Bloomberg also added that per the "Trading Envelope indicator," Bitcoin is reaching the upper level of its technical range. This is purportedly a "positive development."
Santiment, a blockchain analytics firm, recently indicated that Bitcoin is likely to soon see volatility in the upward direction. As reported by Bitcoinist, the company wrote in reference to the chart  below:
"$BTC has just indicated that the 3rd largest token age consumed spike since April has taken place today, indicating a potential short/mid-term price direction change and increased volatility… More likely to the upside than down, because this indicator more often than not foreshadows short-term to mid-term price reversals."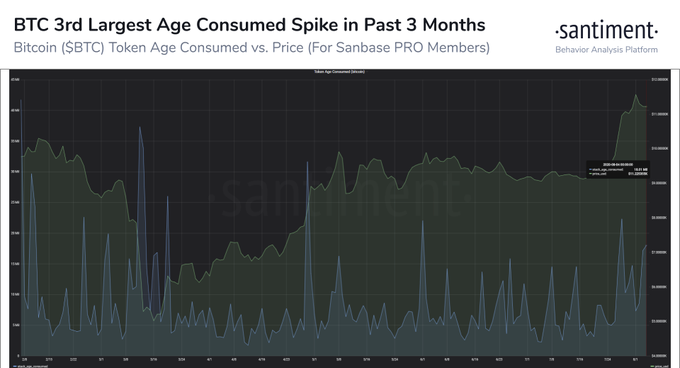 Chart of the token age consumed metric for BItcoin over the past few months with price action from Santiment, a blockchain analytics firm.
To what extent Ethereum will track Bitcoin's seemingly upcoming rally isn't clear. But assuming that it takes the same route as it has over the past few weeks, ETH will outpace BTC.
Featured Image from Shutterstock
Price tags: ethusd, ethbtc
Charts from TradingView.com
After Surging 60% in Two Weeks, Ethereum Just Printed a Reversal Sign
Onessus / DappRadar – Cointelegraph Magazine
Cointelegraph Magazine is a new publication that goes beyond the daily news and delves much more deeply into the stories, trends, and personalities that inspire cryptocurrency and blockchain conversations around the world.
We are people-centric, delving into *why* the true believers of blockchain feel they can change the world (and why they think it needs to be changed).
Through long-form features, thoughtful analysis, and a little humor and satire, we illustrate how the implementation of this technology is affecting the lives of countless people — today, right now, not at some distant point in the future.
Terms / Privacy
'Ethereum Improvement Proposal 3675' for the Eth2 merge launches on Github
A formal Ethereum Improvement Proposal has been created for the network's forthcoming chain merge, bringing Ethereum one step closer to realizing its highly anticipated Proof-of-Stake (PoS) transition.
On July 22, ConsenSys researcher Mikhail Kalinin created a pull-request for EIP-3675 on Github, formalizing the chain merge as an improvement proposal for the first time. The EIP has also been slated for discussion during the July 23 Ethereum Core Devs Meeting by developer Tim Beiko.
Hard to overstate how valuable's @mkalinin2's work on The Merge has been, and it's finally being formalized in an EIP https://t.co/pNRerXFxVf

— Tim Beiko | timbeiko.eth (@TimBeiko) July 22, 2021
The proposal would merge the Ethereum and Eth2 chains, transitioning the network's consensus mechanism away from Proof-of-Work and empowering stakers to validate transactions.
The EIP notes that no "safety nor liveness failures were detected" since the launch of Eth2's beacon chain in December 2020, adding:
"The long period of running without failures demonstrates the sustainability of the beacon chain system and witnesses its readiness to start driving and become a security provider for the Ethereum Mainnet."
Despite the EIP, many leading figures in the Ethereum community, including lead developer Vitalik Buterin, believe it is very unlikely the chain merge will occur during 2021.
The EIP comes amid bidding for the EIP-1559 Supporter NFT series which was launched via Mirror on July 21. The nonfungible tokens demonstrate support for the introduction of a burn mechanism to Ethereum's fee market as part of the network's coming London upgrades. All proceeds will be shared among 1559's contributors, and the tokens were designed by artist "Kitteh."
Since the launch of the beacon chain in December, Eth2 has emerged as the second-largest PoS network by staked capitalization in USD terms, with $12.7 billion worth of Ether locked in staking despite less than 6% of its circulating supply having been deposited.
According to Staking Rewards, Cardano has the largest staked capitalization with $24.2 billion and 62% of supply locked. Solana ranks third with $10.2 billion from 74%, followed by Polkadot with $9 billion from 63%.
South Korea to take action against unregistered crypto exchanges
The South Korean government announced today that crypto exchanges will face punishment if they have not voluntarily registered with the country's authorities by September 24.
This new set of regulations will reportedly affect both exchanges based in South Korea and foreign exchanges that operate in Korean markets. According to the release, that includes any exchange where the Korean language is supported, marketing is geared toward Koreans, or payments can be made using the Korean won.
Under the Specific Financial Information Act, the punishment for exchanges that continue to operate without registration is up to five years in prison or a fine of up 50 million Won — roughly $43,500 USD. Sources suggest that there are plans to block websites belonging to unregistered exchanges in the future as well.
Related: Bank of Korea selects Kakao's blockchain arm for digital won tests
Korean users should check on September 25 to see if the exchange they are using is registered to avoid any related penalties. As of that date, sales made through such exchanges would be illegal within the country.
This announcement is the latest in a string of regulations concerning cryptocurrency around the globe. Earlier this week, the European Union announced plans to crack down on the sending and receiving of cryptocurrency in the hope of limiting money laundering. The SEC Chairman said cryptocurrency falls under the rules and regulations of security based swaps in the US and noted that more regulation could be coming. A meeting from the President Working Group on Financial Markets and other US agencies also took place this week concerning the use and risks of stablecoins. Regulatory recommendations are expected to be delivered in the coming months.