MSTR Stock Up 8% Today, MicroStrategy Adopted New Policy on Bitcoin
After investing in BTC for the first time last month, MicroStrategy yesterday announced that it had purchased more Bitcoins.
Business intelligence company, MicroStrategy Incorporated (NASDAQ: MSTR), is leading in the list of companies that have adopted Bitcoin as their reserve currency. Earlier last month, the company expressed its belief that the virtual currency powered by a public blockchain is superior to cash over the long term, claiming it to be a "reasonable hedge against inflation." After investing in Bitcoin for the first time earlier last month, MicroStrategy yesterday announced that it has purchased more bitcoins. Apparently, the company now controls Bitcoin worth almost half a billion dollar according to the market value at the time of publication, around $10,900. Notably, MicroStrategy (MSTR) stock jumped 9.21% to close Tuesday trading at $155.75, and continued with the rise during Wednesday's pre-market, trading around $160.
At the time of writing, MicroStrategy stock is $7.64% up, trading at $167.65.
With a market capitalization of around $1.51 billion through Tuesday, approximately 33% of it is in Bitcoin.
The company has been increasing its Bitcoin reserve and dramatically reduced its fiat reserves. According to SEC filings, the company purchased 38,000 BTC worth $425 million at an average price of $11,111.
"We just had the awful realization that we were sitting on top of a $500 million ice cube that's melting," CEO Michael Saylor told the media.
MicroStrategy Decisions about Bitcoin That Pushed MSTR Stock Higher
The decision to use Bitcoin as its reserve currency might be one of the best the company will ever take or the dumbest ever. This is primarily because Bitcoin is highly volatile and its value derived from mere speculation.
"This will go down in history as one of the smartest or worst CEO decisions of all time. Case studies and books will be written about it. Either way, it took enormous guts for a public company CEO and I commend him for the courage," said Barry Silbert, the CEO of Grayscale.
Bitcoin increased demand has sustained its market price above $10K for around two months. With institutional investors pumping more cash into the Bitcoin market, governments will be compelled to create policies to govern the industry.
As a result, the cryptocurrency industry will eventually be globally adopted both by institutions and retail investors.
The likelihood of other companies following MicroStrategy's footsteps are very high. "MicroStrategy is adopting a #bitcoin standard. Other companies will follow. Finally, central banks will follow (Switzerland likely to be the first.) A new gold standard for the digital age. A neutral store-of-value will create more checks and balances for governments," said Datavetaren, a pseudonymous software engineer.
MSTR investors are hopeful that the company will certainly experience huge gains which will exponentially increase its value.
This is perhaps the main reason that MSTR stocks keep on rising each and every other time the company purchases more Bitcoins.
Bitcoin News, Business News, Cryptocurrency news, Market News, News
A financial analyst who sees positive income in both directions of the market (bulls & bears). Bitcoin is my crypto safe haven, free from government conspiracies.
Mythology is my mystery!
"You cannot enslave a mind that knows itself. That values itself. That understands itself."
7th International Forum on Blockchain, Cryptocurrencies and Mining – Blockchain Life 2021
Place/Date: Moscow, Russia – August 2nd, 2021 at 9:41 pm UTC · 2 min read
Contact: Blockchain Life 2021,
Source: Blockchain Life
On October 27-28 in Moscow, Russia at one of the most innovative platforms in the world – Music Media Dome, will take place the 7th International Forum on Blockchain, Cryptocurrencies and Mining – Blockchain Life 2021.
The forum traditionally gathers more than 5000 participants and 80 sponsors.
Among the guests of the forum are both industry professionals and those who are just starting their way in one of today's most promising areas: traders, miners, entrepreneurs from crypto and classic businesses, investors, blockchain developers and many others.
The event consists of two main parts: a conference, where speakers share insights on the numerous topics of the forum; and an exhibition, where leading industry companies present their new and current projects. Participation in the forum allows you to get advanced knowledge and acquire numerous new contacts, being among the leaders of the world crypto community.
Despite the travel restrictions between countries, significant industry players from dozens of countries come to the forum.
Major forum's topics:
DeFi and Web3. Crypto technologies that are changing the financial sector today.
Cryptocurrencies regulation in Russia. Law on digital assets. Launch of digital ruble.
Cryptocurrencies trading. Strategies in 2021.
Mining. How are the restrictions in the leading countries affecting the hashrate distribution and the earnings of each miner?
Staking, yield farming. Fantastic profitability of alternative types of mining.
Bitcoin and altcoins. Prospects for development and application in 2021-2022. Ways to earn on cryptocurrencies.
Implementation of blockchain technology in business and government. New cases and opportunities.
NFT — hype or not? Everything about digital art.
For the 7th time, the organizers of the forum are the largest agency for listing on the stock exchanges — Listing.Help — and IDEO association (International Digital Economy Organization).
The forum will traditionally host the international Blockchain Life Awards and the StartUp Pitch competition.
The first speakers are published on the website.
You can buy a ticket at an early price, ask questions and get answers to them here.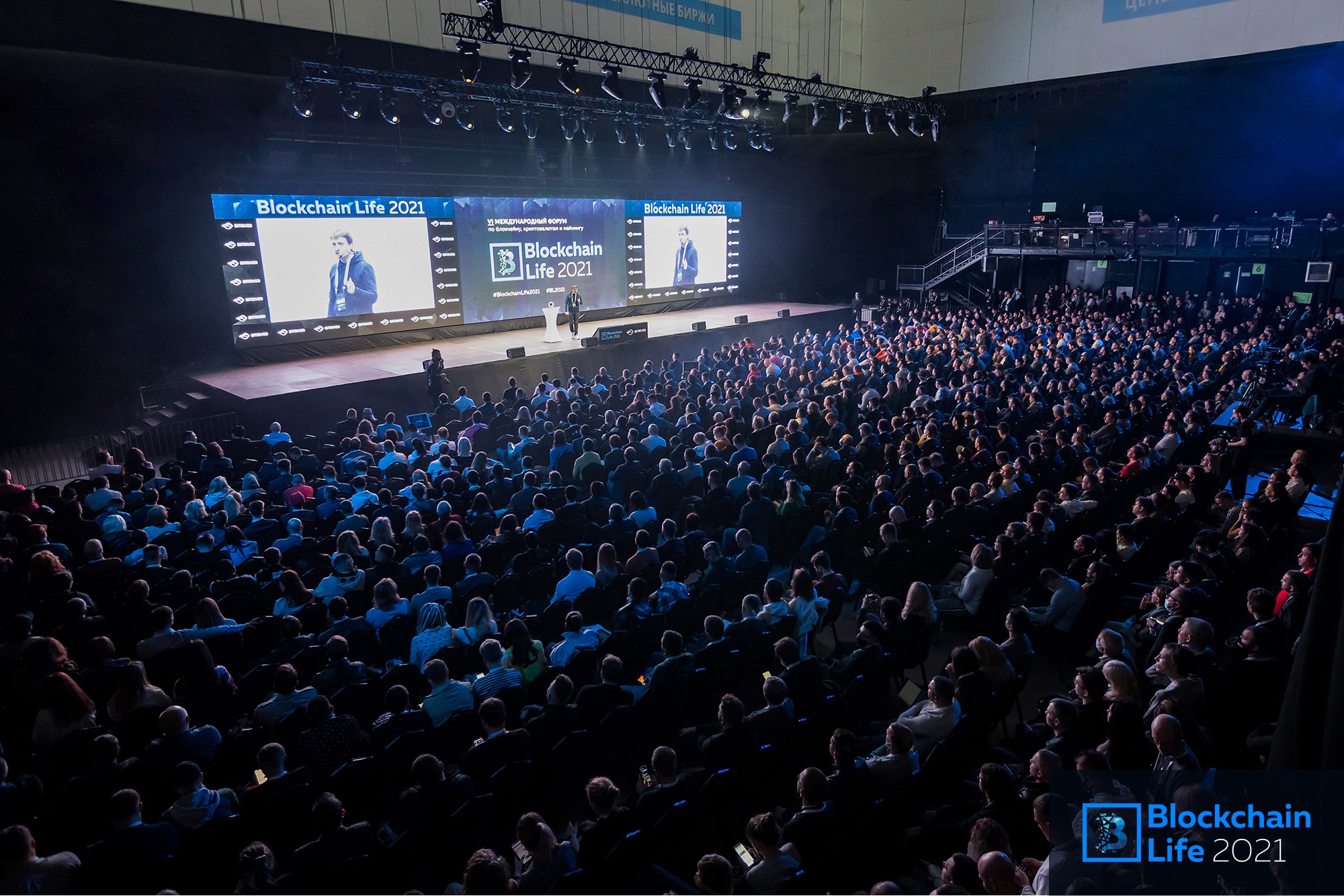 Subscribe to our telegram channel.
Join
Square to Acquire Australian Company Afterpay in $29 Billion Deal
Jack Dorsey's Square will be acquiring Afterpay, which is a "buy now and pay later" firm in a deal worth $29 billion.
Jack Dorsey, CEO of Twitter Inc, is all set to purchase Afterpay, a company that offers an option to buy now and pay later to its clients while making bargains at various other platforms. Square will be acquiring the Afterpay company in a striking $29 billion which is publicized by the media as Australia's biggest "buyout" to date.
Afterpay is one of the pioneering companies in the world having more than 16 million customers and is used by 100 million businesses all over the world.
Square All Set to Acquire Afterpay in a Deal Worth $29 Billion
Twitter Co-Founder and CEO Jack Dorsey's Square will now be acquiring a buy now and pay later platform Afterpay in a whopping 29 billion dollar deal. The company will expand its operations through Afterpay which has a customer base spanning 16 million active consumers and is frequently used by 100 million businesses across the world.
Afterpay has confirmed that the board of directors associated with the firm have unanimously suggested the deal to their shareholders and have established an agreement to own 18.5% of the new company.
Afterpay has successfully ascertained a niche where credit-based payment ideas can be utilized to establish a profitable business. Afterpay offers a facility where users can make purchases first and pay later under a time limit which has been a source of massive popularity for consumers all over the world.
Twitter's CEO Jack Dorsey has expressed his views on the acquisition and has commented that Square and Afterpay were created to conduct fair financial proceedings that are accessible to the masses in a simplified manner. Afterpay has built a strong brand image that can be utilized to achieve the desired results with optimum efficacy and safety.
Afterpay had recently acquired significant popularity in terms of transactions where it was noted that a considerable number of people, especially young professionals, and individuals have utilized the platform to purchase everyday essentials and equipment on a buy now and pay later format, because of growing coronavirus concerns.
The following agreement is said to accelerate the Australian firm proceedings and also help the company to scale work operations in America. Square too, has announced their second-quarter earnings stating the company's gross profit which has increased to $1.14 billion since last year.
Afterpay's novel move to offer credit-based payment options that allow the users to make payments in installments has made the company quite popular and prominent among other contenders. Shares of Afterpay have noticed a surge in prices by 19% after the news of acquisition went viral on various social media outlets.
next Business News, Deals News, Market News, News
Juhi Mirza is an archaeology major who is obsessive about blockchain/Crypto technology and deems it to be the foundational philosophy of the future. Her dogged ability to research and crystallise technical facts/multiple perspectives into rivetting stories makes her an accessible finance writer. She tends to her archaeological pursuits and loves unearthing the past over the weekends.
Subscribe to our telegram channel.
Join
Matrixport Becomes Unicorn in Just Two Years Post Series C Funding
Matrixport, with its knowledge of both traditional finance and modern crypto, is best suited to provide solutions to the emerging challenges of this novel crypto asset class.
Singapore-based digital asset financial services venture Matrixport closed its latest Series C funding round raising over $100 million elevating its pre-money valuation to over $1 billion in just a couple of months. It is now officially a Unicorn and has raised a total of $129 million to date since its inception.
Its fast-growing success can be attributed to its fierce and exceptional technological competency through which it has been offering unique products to its customers. Matrixport's suite of offerings is tailor-made for a wide variety of investors and traders both institutional as well as retail. No matter what your risk appetite is or what yields you expect to earn, Matrixport will provide the best at hand making sure you get more from your crypto. All their product offerings thus make their mission possible – Get More From Your Crypto.
Key Features of the Series C Funding by Matrixport
As said earlier, the company raised over $100 million in an impressive Series C funding round thus turning the start-up into a unicorn at such an early stage. While DST Global, K3 Ventures and C Ventures became the leading investors of this round, the start up's early investors namely Lightspeed, Dragonfly Capital, Polychain, IDG Capital and CMT Digital also participated. The others included Qiming Venture Partners, Tiger Global, CE Innovation Capital, Palm Drive Capital, A&T Capital, Cachet Group, Foresight Ventures.
The new funds will be put to use in enabling sophisticated research and development that in turn will improve their offerings and enhance customer experience on the platform. The new employees will range from those having industry capabilities across world-class banks and internet giants to those with niche expertise in blockchain technology firms. Currently, the company has its user base in over 40 countries which it plans to expand through securing licenses for operations in additional jurisdictions, thus consolidating its global expansion goal.
About the Company
Matrixport was founded in 2019 by Jihan Wu and John Ge, both earlier associated with the world's largest Bitcoin mining rigs maker Bitmain. The platform offers a full collection of services like dual currency BTC/USDC linked product (DCP), spot OTC, fixed income, Cactus CustodyTM, structured products and asset management for both institutions and retail customers. As per its website, the company holds currently over $10 billion in assets and has $5 billion worth of monthly transactions across all products.
The company's goal is to be the one-stop financial services platform that will give crypto users multiple products to invest their digital assets and sustainably earn profits. Already being recognised as a thought leader in the crypto-based financial services industry, Matrixport enhances the experience of all three crypto customer communities namely the crypto natives, the emerging first-time crypto users largely consisting of the younger generation and the sophisticated institutional customers.
According to a statement released by Ge to Bloomberg, the company plans to go public in three to five years and thus provide investors with an exit route. Though its profit numbers have not been released, Ge also confirmed Matrixport's ambition to have hundreds of billions of dollars in assets under management and custody within the same time frame.
next Business News, Investors News, Market News, News
Content specialist with interest across sectors like Finance, Politics, Environment, Technology & Education. Loves Fiction! A reader, dreamer & blogger. When not writing, you will find her enjoying solitude like her cats