CoinSpeaker Interview with Cell Protocol Coinspeaker
Cell Protocol, a decentralized oracle network working on blockchain, is looking forward to becoming a leader in the DeFi field.
Decentralized Finance is on the rise and there are a lot of interesting projects developing in this ecosystem. Coinspeaker asked Cell Protocol Team to share details of their work and their future ambitions.
Coinspeaker: What is Cell protocol and its main goal? 
Cell Protocol Team: Cell Protocol is a decentralized oracle network which works on blockchain technology and its main aim is translating information from the outside world and write it into the blockchain. This data interoperability between the blockchain and the outside world enables smart contracts to interact with the outside world. 
Coinspeaker: What are the Cell working mechanisms?  
Cell Protocol Team: Cell oracle is a price oracle that addresses price up-chaining problem through a decentralized incentive scheme.
Unlike the rest of the current oracle machines that gain their data from off-chain trusted third parties, the incentives for the Cell agreement make prices form directly on-chain. The participants must invest real money in order to be responsible for their actions in the ecosystem.
For example, participants can offer agreed prices, such as 50 TRX = 1 USDT, and then put the two assets into a quoted contract varies as the price, usually 200,000 – 1,000,000 TRX in size, and receive 1% of the TRX size as a commission to mine and receive Cell.
After putting the asset in the contract, others can purchase TRX or USDT at the offered price during the T0 time cycle. During this cycle, if no one offers a trade, then the offered price will be accepted. But if a trade happens, the price will become invalid.
Coinspeaker: What are the peculiarities of the Cell quote validation process? 
Cell Protocol Team: In our system, anyone who is interested can be the verifier and conduct price validation on the quotations. If there is a deviation between the quotation and the market price, then there will be some room for arbitrage. At this time, the verifier can start our unique order-eating arbitrage:
The minimum amount of order eaters for the validator is n * 200,000 TRX, where n needs to be an integer. While eating orders, validator will need to offer a new quotation, with a beta times the size of the quotation. Currently, beta=2, and if the validator's new quotation deviates over 10% compared with the previous validated quotation, the new quotation size must be timed 10 times.
There is no price feeding fee for new offers initiated by verifiers and no participation in Cell yield farming. The verifier will need to pay a transaction fee of 0.1% of the TRX number of orders eaten. 
Coinspeaker: Does your project have its own token? 
Cell Protocol Team: Yes, we have our own token, Cell. It is a TRC20 Token issued by the decentralized Cell Protocol based on the Tron network, and the maximum number is 10 billion. 
The following details are the calculation of Cell gain from yield mining:
Number of Cell awards contained in blocks that are packaged offer transactions is M; the height difference of the block from the last block containing a quote transaction is K; and M = K * Number of awards per unit block. In other words, if no price feed orders show up for some time, then the first miner offering a price will gain all the tokens that were not previously mined. Let's assume the quote commissions in the block is E, where a particular quote pays a commission of e. Then the number of Cell digs for that quote is N:
N = (e / E)* M
Regarding the Mining Distribution Mechanism, price feeders participating in the yield farming can get 80%, developer team will get 5%, while early supporters as well as investors will receive 15%. Moreover, when the released Cell reached 2 billion, the 5% for the developer team will all belong to the price feeders.
Coinspeaker: What makes Cell different from other oracle projects? 
Cell Protocol Team: Like I said before, different from other oracles that obtain data from trusted third parties off-chain, Cell agreement encourage forming prices directly on-chain. Real money needs to be invested so that the participants can take the responsible for their actions. This means that the Cell agreement can promote users to offer real data.
In the Cell protocol ecosystem, there is a continuous mutual work between quoters and validators whose identities are transformed over time. When considering the values of beta and T0 (quotation period), the distribution of the quoted token positions and the execution period of the arbitrageurs are the two main perspectives to consider. The vast majority of token positions are not normally distributed but have distinct Fat Tail characteristics. In contrast, it is easier to manipulate in the more concentrated token positions. As we are aware of, the Block Interval on Tron is shorter, which can allow the validator to arbitrage enough times within T0 at a much lower cost to return to a rational price within the T0 cycle in a shorter period of time. This project allows anyone to adhere to the price structure, the price of which can reflect the actual transaction price of the pair, and can show price changes fairly quickly.
Coinspeaker: Is it possible for the Cell to become a leader in the DeFi field? 
Cell Protocol Team: We hope so, and we believe oracle will become the vital fundamental of DeFi whatever in Tron or ETH ecosystem. Let me introduce more about what we did before.
For Cell Oracle, in order to become trustful, we ran simulations on the TRC-20 tokens under different scenarios. We checked the system model to see the cost of mischief and how much time it takes to regain the Nash equilibrium based on the distribution of positions in different tokens and the frequency of trades.
The figure below shows the position of a randomly selected TRC-20 token Richlist 1% address, which accounts for about 67% to 100% of the liquidity, and simulates the behavior of the project side holding absolute liquidity with the intention to control the price.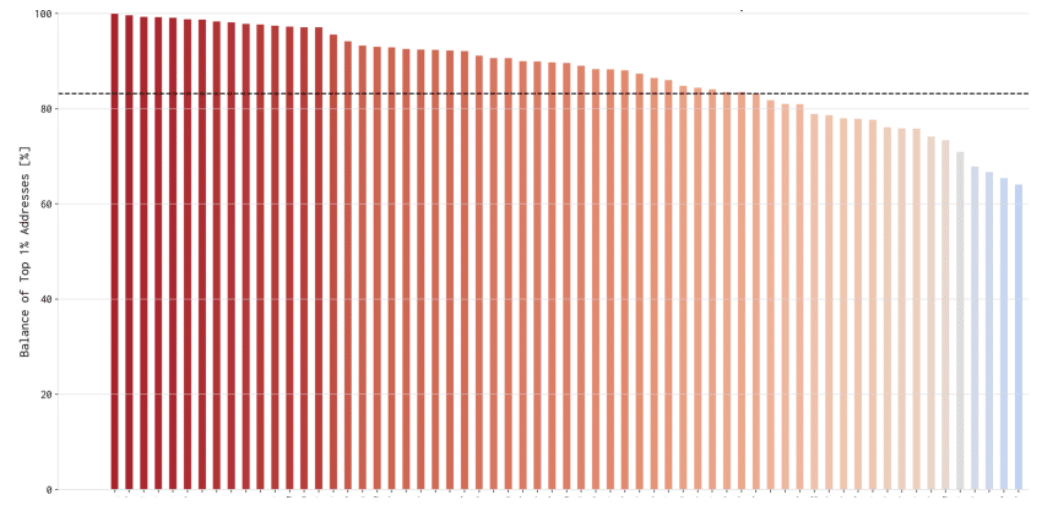 From the scheme below you can see that the frequency of attacks by the attacker under four different position limits and the number of trades that can be packaged in each block.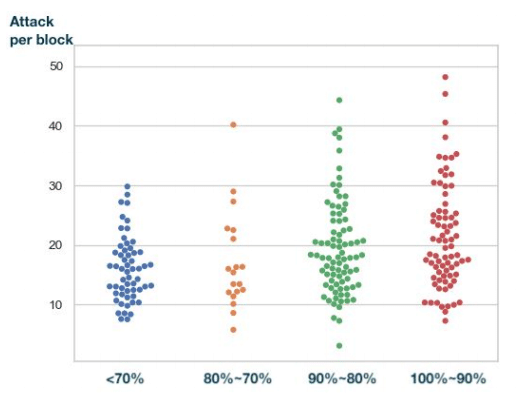 After more than 1000 simulations, the system is still can make the distorted price return to normal in T0 less than 100 blocks, i.e. about five minutes, when the extreme concentration of positions (99% concentration) and the network is not in extreme congestion. The system is set at beta equal to 2, and the evil party loses about 48% of the tokens. The graph below shows the number of price regression blocks for 4 levels of concentration. In the <70% concentration level, the P-Value is less than 0.05 for price regression times of less than 2 minutes.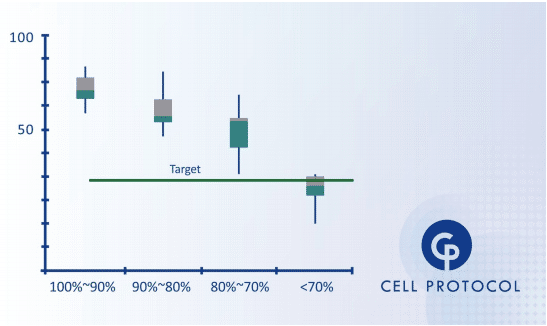 Coinspeaker: How can the Cell be improved after joining Tron's DeFi ecosystem?
Cell Protocol Team: We believe we can achieve a non-zero-sum game after joining Tron's ecosystem, and Cell Version 2.0 is in progress. Built on Tron, users in Cell can benefit from extremely low handling fee. With no pre-mining, we hope all miners can join Cell and Tron's DeFi ecosystem with the most fairness.  
Blockchain News, Cryptocurrency news, FinTech News, Market News

Having deep expertise in intercultural communications, Natallia is fond of foreign languages and cultures. She strongly believes that people should continually develop to stay on track, that's why she permanently widens her knowledge in various spheres. Currently, Natallia is fully immersed in crypto, blockchain and financial techs.
Elon Musk, Tim Cook Deny Meeting to Discuss Tesla Acquisition
Besides Musk, Cook has also owned up to not having met with Musk on no occasion when he appeared on the New York Times Sway Podcast.
The claims published in Tim Higgins new book 'Power Play: Tesla, Elon Musk and the Bet of the Century,' that the Tesla Inc (NASDAQ: TSLA) CEO and Tim Cook, the Chief Executive Officer of Apple Inc (NASDAQ: AAPL) had a meeting to discuss the possible acquisition of the electric automaker has been refuted by both parties.
According to Insideevs, the conversation in which Tim Cook said 'f*** you' to Musk via a phone call has been adjudged as false. According to the book from Higgins, a New York Times reporter, the Apple boss called Musk to discuss a possible acquisition deal as far back as 2016. Higgins claims that both CEOs' discussions fell apart when Musk demanded to continue being the CEO of Apple following the acquisition. The proposition was not well received by Cook who said 'f*** you' and hung up the phone.
While there has been a consideration to give up Tesla to Apple as Musk agreed to, that was when the former's valuation is just about 6% of what it is today. Moreover, Musk said despite requesting to meet with Cook for the takeover consideration, the meeting never actually happened.
"Cook & I have never spoken or written to each other ever. There was a point where I requested to meet with Cook to talk about Apple buying Tesla. There were no conditions of acquisition proposed whatsoever. He refused to meet. Tesla was worth about 6% of today's value," Musk revealed via his official Twitter account.
Besides Musk, Cook has also owned up to not having met with Musk on no occasion when he appeared on the New York Times Sway Podcast according to an earlier Bloomberg report.
Elon Musk Says He Had No Interest Running Apple and Tim Cook
As the most valuable automaker in the world by market capitalization, there appear to be no signs that Tesla is up for sale as Musk once intended close a decade ago. Moreso, Elon Musk has said via his Twitter account that he never at any time expressed interest in taking over Apple. Per his words:
"Indeed. Both Cook & I have been clear publicly that we have never spoken or otherwise communicated. I tried to speak to him & he declined. Nor have I ever expressed any interest in running Apple to anyone. Cook is, all things considered, obviously doing an incredible job."
The doubled-checked claim from both Cook and Musk leaves Higgins's assertions to be questionable. Despite the book being reviewed by the Los Angeles Times, Musk duly noted that the author has "managed to make his book both false *and* boring."
next Business News, Editor's Choice, Market News, News

Benjamin Godfrey is a blockchain enthusiast and journalists who relish writing about the real life applications of blockchain technology and innovations to drive general acceptance and worldwide integration of the emerging technology. His desires to educate people about cryptocurrencies inspires his contributions to renowned blockchain based media and sites. Benjamin Godfrey is a lover of sports and agriculture.
Li Auto Set for Secondary Listing in Hong Kong to Raise $1.93 Billion
Chinese carmaker Li Auto set to offer secondary listing in Hong Kong as a hedge against geopolitical risks between America and China.
Automobile manufacturer Li Auto (NASDAQ: LI), is going ahead with a secondary listing on the Hong Kong Stock Exchange (HKEX) despite regulatory crackdowns in the country. The Chinese electric vehicle startup, which is already listed on the NASDAQ, is looking to raise $1.93 billion. It plans to do this by offering 100 million Class A ordinary shares to investors at 150 Hong Kong dollars or $19.29. Li Auto plans to funnel the proceeds from its share offering into research and development of technology and future models. The automobile company is also looking to scale production and increase retail activities around its products. 
Li Auto will announce a final price on August 6th amid the crackdown on Chinese listings. The recent regulatory actions have sparked a huge recent sell-off in Chinese technology stocks. The sell-off has affected everything from food delivery to ride-hailing.
The Chinese government looks to tighten its grip over Chinese technology companies in a bid to avoid a tech-led bubble bursting. This comes on the back of the US SEC imposing stricter listing requirements for Chinese-based companies in America. Amid the excitement and uncertainty of the crackdown, Chinese electric vehicle makers are also looking to capitalize.
Li Auto Is One of Many Chinese Tech Companies with Secondary Listings in Hong Kong
Several Chinese companies already listed on Wall Street have secondary listings in Hong Kong to hedge against Chinese-American tensions. In July, Xpeng (NYSE: XPEV) generated $1.8 billion in a Hong Kong listing. The Li Auto rival issued 85 million Class A ordinary shares and is also already listed in the US. Other Wall Street Chinese technology companies with secondary listings back home are Alibaba, NetEase, and JD.com. 
Owing to the increasing growth of Chinese electric vehicles, the competition has become very intense in recent times, especially among startups. Li Auto, Xpeng, and Nio are all jockeying for dominance in the playing field. In addition to this, all three companies are also directly competing with established companies such as Tesla and BYD. Even the more traditional automakers are always looking to take a sizable market share in the automobile industry. As far as the electrical startups go, Xpeng has already proven to be a force in coming years and is already being dubbed 'The Chinese Tesla Rival'.
In July 2021, Li Auto recorded a record number of monthly vehicle sales. The company said it delivered 8,589 of its Li One vehicles, the only model in its current model lineup. The Li One is a hybrid vehicle with a fuel tank for charging the battery, giving the car an increased mile range.
Li Auto sold the highest number of vehicles among the trio of Chinese electric vehicle startups listed in the US. Xpeng delivered 8,040 vehicles which was also a company record. In comparison, Nico sold 7,931 cars in the same period.
next Business News, IPO News, Market News, News, Technology News
Tolu is a cryptocurrency and blockchain enthusiast based in Lagos. He likes to demystify crypto stories to the bare basics so that anyone anywhere can understand without too much background knowledge.
When he's not neck-deep in crypto stories, Tolu enjoys music, loves to sing and is an avid movie lover.
Wealthfront Says Clients Can Now Invest in Grayscale BTC and ETH Funds
With the uncertainty in the current investment ecosystem, Wealthfront says it is set to offer its customers an expert-backed recommended portfolio.
Robo-adviser Wealthfront has made a bold move to offer its clients a means to gain exposure to Bitcoin (BTC) and Ethereum (ETH) through Grayscale investment funds. Per a blog post published by the firm, its expanded product offerings include the Grayscale Bitcoin Trust (OTCMKTS: GBTC) and Grayscale Ethereum Trust (OTCMKTS: ETHE). The firm noted that its clients can invest as much as 10% of their total portfolio in the trusts, citing risk and volatility as the reasons for the restrictions.
"You can add GBTC and/or ETHE to your portfolio by following the instructions here and selecting a combined allocation of up to 10% of your total portfolio. We limit your allocation to GBTC and ETHE because, as a fiduciary, we act in your best interests at all times, and these investments can be riskier and more volatile than most ETFs," Wealthfront said in the blog post.
The maturity of the cryptocurrency ecosystem has seen a growing clamor for exposure or investments in assets like Bitcoin and Ethereum by both retail and institutional investors. Several economic fundamentals have contributed to this rising embrace of nascent assets including the pangs of inflation which has continued to contribute to the devaluation of fiat currencies like the US Dollar. More than ever, the investment community is seeing a more flexible and promising means of hedging against inflation through digital assets.
The move by Wealthfront to integrate the GBTC and ETHE is geared toward enhancing the quality of investment options by its clients. While there is no obligation on customers to invest in these offerings, their availability implies the Robo adviser is moving in line with the trends in the growing digital world.
Wealthfront Grayscale Funds: Value Added Services to Owing Crypto
The Wealthfront system uses advanced automation to take "chore out of managing your portfolio and works to maximize your after-tax returns at no extra cost." Just like the investment manager is offering GBTC and ETHE investment options, it also gives its clients the way to acquire other investment products including ARK ETFs as well as other vehicles that represent innovative tech and social advancements.
The firm said the newly added products are complementary to the existing products as customers "can now choose from a bigger selection of ARK ETFs, pick ETFs that are specific to industries like cannabis or self-driving cars, or choose from a larger pool of socially responsible investments, adding that "the choice is yours."
With the uncertainty in the current investment ecosystem, Wealthfront says it is set to offer its customers an expert-backed recommended portfolio. As a value-added service, the firm said its clients can bring over investments from another firm and they will handle the details that is billed to drive productivity. 
Wealthfront is arguably one of the largest Robo advisors in the world with about $25 billion in assets under management. Grayscale also holds as much as $25.5 billion in the GBTC trust and $7.47 billion in its ETHE trust.
next Altcoin News, Bitcoin News, Cryptocurrency news, Ethereum News, Funds & ETFs
Benjamin Godfrey is a blockchain enthusiast and journalists who relish writing about the real life applications of blockchain technology and innovations to drive general acceptance and worldwide integration of the emerging technology. His desires to educate people about cryptocurrencies inspires his contributions to renowned blockchain based media and sites. Benjamin Godfrey is a lover of sports and agriculture.