Ethereum Is At a Pivotal Resistance, and a Rejection Could Send ETH to $300
Ethereum has seen a strong performance in the past 24 hours.
The coin has reached its highest price in days as it moves to $360.
While this is bullish price action, Ethereum printed a number of wicks above the current price.
This important as above ETH's current price is an important horizontal resistance.
Ethereum failing to surmount this level and flip it into support exposes the coin to a drawdown, analysts say.
Bitcoin may end up dictating ETH's price action at the end of the day.
Analysts should watch Bitcoin and Ethereum in the coming days to determine the direction the rest of the crypto market will move.
Ethereum Is Primed to Drop as It Fails to Pass a Key Resistance
Ethereum failing to move past the resistances in the $365-375 region could result in a strong correction according to top analysts.
Michael Van De Poppe, a crypto analyst and a trader at the Amsterdam Stock Exchange, says that should the cryptocurrency fail to move past this resistance, it could drop towards $300, then slightly lower. This region is important as it's where a number of ETH corrections bottomed in the past two months.
"All right, this one is moving upwards and that's good. However, the crucial hurdle is around $366-375 to break. If that breaks, $ETH is ready for $415. If not, I assume $280 as a likely possibility for further corrective movements in Q4."
Chart of ETH's price action over the past few months with analysis by crypto analyst Michael Van De Poppe. Chart from TradingView.com
All Eyes on Bitcoin
While Ethereum may be in no man's land in and of itself, Bitcoin's price action will dictate that of altcoins moving forward.
Analysts are optimistic about BTC after the coin surged towards $11,000 on Sunday evening. The surge convinced many that the prevailing short-term trend is bullish as opposed to bearish.
As reported by Bitcoinist previously, one analyst shared the chart below. It shows that Bitcoin's recent price action has been pivotal in that the cryptocurrency bounced off a historical support.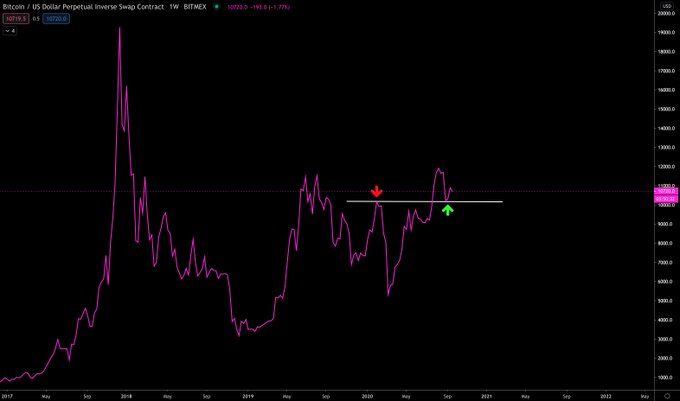 Chart of BTC's macro price action since the start of 2017 with analysis by crypto analyst MacroCRG (@MacroCRG on Twitter). Chart from TradingView.com
Further gains in the price of Bitcoin will drive Ethereum higher as the two markets are somewhat correlated with one another.
What may happen, though, is that the exact price performances of BTC and ETH diverge as fundamental trends drive the magnitude of moves in different directions. As seen over recent months, Ethereum has largely outperformed Bitcoin due to trends in decentralized finance.
Featured image from Shutterstock
Price tags: ethusd, ethbtc
Charts from TradingView.com
Ethereum Is At a Pivotal Resistance, and a Rejection Could Send ETH to $300
'Ethereum Improvement Proposal 3675' for the Eth2 merge launches on Github
A formal Ethereum Improvement Proposal has been created for the network's forthcoming chain merge, bringing Ethereum one step closer to realizing its highly anticipated Proof-of-Stake (PoS) transition.
On July 22, ConsenSys researcher Mikhail Kalinin created a pull-request for EIP-3675 on Github, formalizing the chain merge as an improvement proposal for the first time. The EIP has also been slated for discussion during the July 23 Ethereum Core Devs Meeting by developer Tim Beiko.
Hard to overstate how valuable's @mkalinin2's work on The Merge has been, and it's finally being formalized in an EIP https://t.co/pNRerXFxVf

— Tim Beiko | timbeiko.eth (@TimBeiko) July 22, 2021
The proposal would merge the Ethereum and Eth2 chains, transitioning the network's consensus mechanism away from Proof-of-Work and empowering stakers to validate transactions.
The EIP notes that no "safety nor liveness failures were detected" since the launch of Eth2's beacon chain in December 2020, adding:
"The long period of running without failures demonstrates the sustainability of the beacon chain system and witnesses its readiness to start driving and become a security provider for the Ethereum Mainnet."
Despite the EIP, many leading figures in the Ethereum community, including lead developer Vitalik Buterin, believe it is very unlikely the chain merge will occur during 2021.
The EIP comes amid bidding for the EIP-1559 Supporter NFT series which was launched via Mirror on July 21. The nonfungible tokens demonstrate support for the introduction of a burn mechanism to Ethereum's fee market as part of the network's coming London upgrades. All proceeds will be shared among 1559's contributors, and the tokens were designed by artist "Kitteh."
Since the launch of the beacon chain in December, Eth2 has emerged as the second-largest PoS network by staked capitalization in USD terms, with $12.7 billion worth of Ether locked in staking despite less than 6% of its circulating supply having been deposited.
According to Staking Rewards, Cardano has the largest staked capitalization with $24.2 billion and 62% of supply locked. Solana ranks third with $10.2 billion from 74%, followed by Polkadot with $9 billion from 63%.
South Korea to take action against unregistered crypto exchanges
The South Korean government announced today that crypto exchanges will face punishment if they have not voluntarily registered with the country's authorities by September 24.
This new set of regulations will reportedly affect both exchanges based in South Korea and foreign exchanges that operate in Korean markets. According to the release, that includes any exchange where the Korean language is supported, marketing is geared toward Koreans, or payments can be made using the Korean won.
Under the Specific Financial Information Act, the punishment for exchanges that continue to operate without registration is up to five years in prison or a fine of up 50 million Won — roughly $43,500 USD. Sources suggest that there are plans to block websites belonging to unregistered exchanges in the future as well.
Related: Bank of Korea selects Kakao's blockchain arm for digital won tests
Korean users should check on September 25 to see if the exchange they are using is registered to avoid any related penalties. As of that date, sales made through such exchanges would be illegal within the country.
This announcement is the latest in a string of regulations concerning cryptocurrency around the globe. Earlier this week, the European Union announced plans to crack down on the sending and receiving of cryptocurrency in the hope of limiting money laundering. The SEC Chairman said cryptocurrency falls under the rules and regulations of security based swaps in the US and noted that more regulation could be coming. A meeting from the President Working Group on Financial Markets and other US agencies also took place this week concerning the use and risks of stablecoins. Regulatory recommendations are expected to be delivered in the coming months.
16% Ethereum price rebound activates a classic bullish pattern — $2.5K next?
Ethereum's native crypto Ether (ETH) rebounded sharply on Thursday after Elon Musk disclosed for the first time that his private rocket firm SpaceX holds Bitcoin (BTC), and Tesla would probably resuming the bitcoin payment option for its electric cars.
The BTC/USD exchange rate was below $30,000 but bounced by more than 5% after the big reveal, touching an intraday high of $32,895. Ether, which tends to move in lockstep with the flagship cryptocurrency, surged likewise.
It reclaimed $2,000 on Wednesday, rising by as much as 18.20% from its week-to-date low of $1,720.
Lukas Enzersdorfer-Konrad, chief product officer at financial services company Bitpanda, told Cointelegraph in an email statement that Ethereum would continue tailing Bitcoin in the coming sessions.
"As soon as the "big brother" finds its support level," he added, "Ethereum will most likely follow suit."
Classic pattern sets $2.5K target for Ethereum 
The latest bounce in the Ethereum market also originated from a support level that had earlier capped Ether's downside attempts.
Independent market analyst, known by the pseudonym Rekt Capital, flashed a so-called "orange area" on a weekly ETH/USD chart, illustrating three bearish wicks and their ability to shied the pair from falling lower.
"ETH has rallied +16% since rebounding from the orange area," the analyst explained, coupling the price floor with a support trendline that apprehensively constituted a Falling Wedge.
In detail, Falling Wedges are bullish reversal patterns that start wide at the top but start contracting as the prices move lower, forming a sequence of lower highs and lower lows. A bullish confirmation comes when the price breaks above the Wedge's upper trendline with a spike in volumes.
In doing so, bulls place their upside profit target as up as the maximum wedge height.
Ether prices almost check all the boxes when it comes to trading inside a Falling Wedge pattern. Rekt Capital highlighted the same in a chart he published Thursday.
"As long as ETH holds the bottom of the structure as support until the end of the week, [it] will confirm a return to the structure after briefly losing it earlier this week," added Rekt Capital.
The maximum distance between the Wedge's upper and lower trendline is roughly $850. Therefore, according to the classic technical setup, a breakout above the upper trendline could send the prices to at least $2,500.
Related: Decoupling ahead? Bitcoin and Ethereum may finally snap their 36-month correlation
Nonetheless, the prices still risk falling sharply below $2,000 based on a short-term technical setup, as shown in the chart below.
The daily Ethereum chart shows price could fluctuate between $1,850-2,080 before the potential bullish breakout, noted Rekt Capital.
Kirkpatrick and Dalquist's book titled "Technical Analysis" notes that falling wedges have a failure rate of just 8% to 11%. Moreover, the possibility of a bearish breakout has a higher failure rate of 15% to 24%.
The views and opinions expressed here are solely those of the author and do not necessarily reflect the views of Cointelegraph.com. Every investment and trading move involves risk, you should conduct your own research when making a decision.