Ethereum Will Explode Past $400 as Key Level Reclaimed by Bulls
Ethereum has undergone a strong drop since peaking at $400 this past weekend. The leading cryptocurrency currently trades for $380, down after Bitcoin dropped from its daily highs. Analysts still think that ETH will move higher, though, citing technical trends.
Ethereum Could Explode Past $400, Analysts Say
Analysts remain confident about Ethereum despite recent uncertainty in the price of Bitcoin. One trader said, referencing how ETH is still holding above range supports:
"I don't short Ethereum because im not a moron, that said currently PA needs to get above and flip $390 into support for us to start heading higher, seems to be that price as gotten comfortable below $400 recently… Thinking that tomorrow we could see $400+. Send it."
Charts of ETH's price action over the past few months with analysis by crypto trader Cactus (@TheCryptoCactus on Twitter).
Source: ETHUSD from TradingView.com
One cause for concern is that whales have stopped accumulating Ethereum, or have begun to sell their tokens on retail traders as per on-chain data.
Santiment, a leading blockchain analytics firm, recently said on the matter of Ethereum's price action potential:
"The top 10 $ETH whales are holding their lowest percentage of #Ethereum's token supply since July 26th. This 3-month low isn't necessarily an indication of a sell-off, and can be perceived as an indication of widespread adoption among more addresses."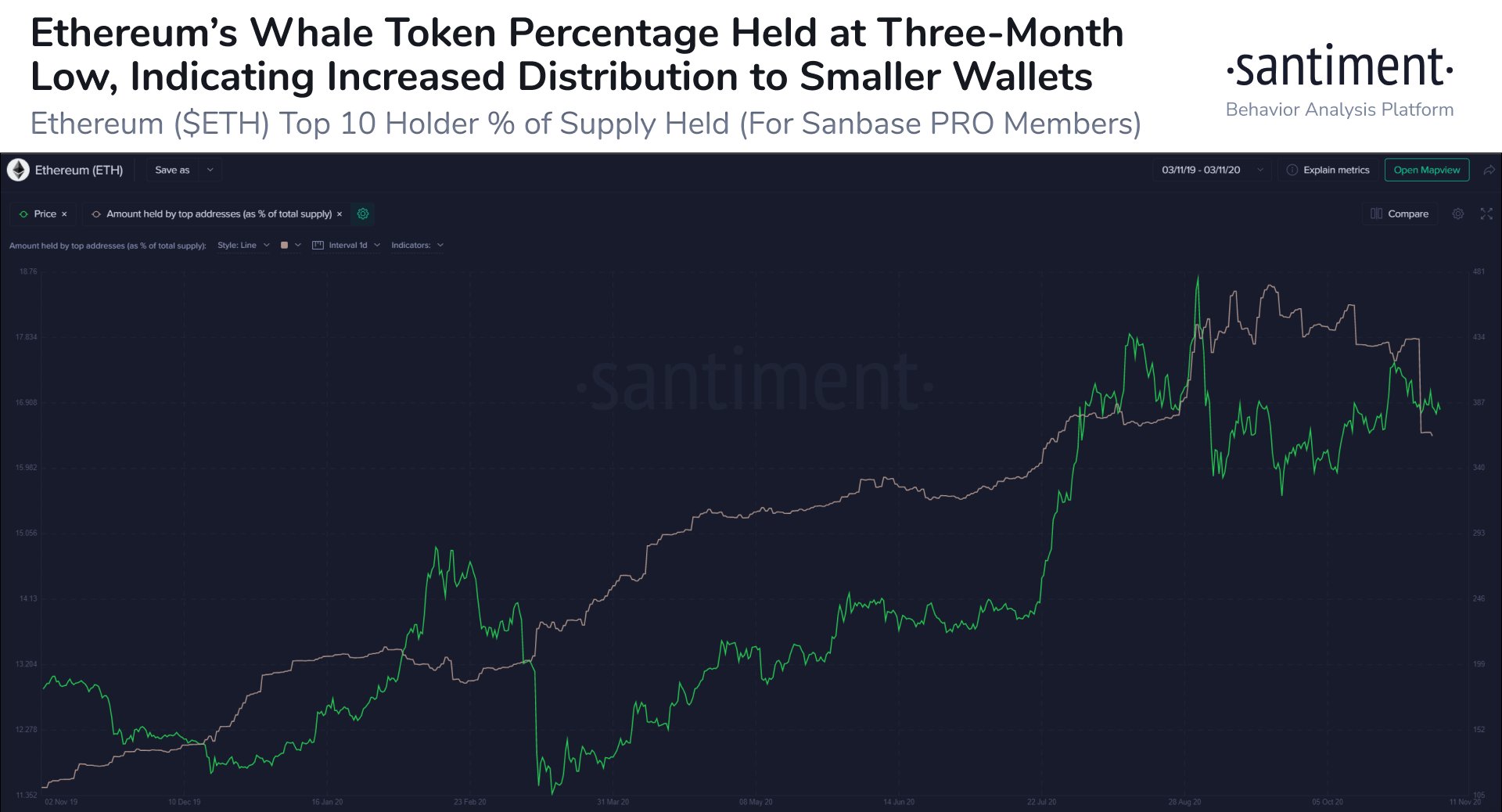 Chart of ETH's price action aover the past few months overlayed with the amount of ETH (% of total supply) held by the top 10 addresses.
Chart from Santiment, a blockchain data and analytics firm.
ETH2 Deposit Contract
It was expected that the ETH2 deposit contract would be delayed, thus delaying the launch of ETH2. Danny Ryan of the Ethereum Foundation said last month:
"This library is critical to creating keys, signing messages. Critical, in early phases, [means] that if you use this library, they need to be secure; if you use it to generate your wallets, it needs to have good randomness; and if you are signing your deposits which have a signature associated, it needs to be correct. Given how critical this library is, and given that, if there is a fundamental error in this library we could f*ck some sh*t up in terms of genesis deposits, that is the blocker."
Fortunately for bulls, it was recently revealed that the deposit contract for Ethereum 2.0 is nearing. David Hoffman of Bankless, an Ethereum-focused media startup, shared a link online showing that a Github account called "CarlBeek" released a number of files that seemingly contain the ETH2 deposit contract and other related applications.
Featured Image from Shutterstock
Price tags: ethusd, ethbtc
Charts from TradingView.com
Analyst: Ethereum Will Explode Past $400 as Key Level Reclaimed by Bulls
Ethereum London upgrade launches on testnet as 100K staked in a day on Eth2
Ethereum's forthcoming London upgrade, containing the highly-anticipated Ethereum Improvement Proposal (EIP) 1559, has been deployed on the Ropsten testnet.
Following the June 24 launch on Ropsten, London is now expected to progress through Ethereum's Goerli, Rinkeby, and Kovan testnets at roughly weekly intervals — from which point the Ethereum community expects a date for mainnet deployment to firm up.
The new upgrade will see transaction fees burned. According EIP-1559 tracking website, Watch the Burn, roughly 88,500 testnet ETH nominally worth $177.6 million has been burned on Ropsten over the day since London's deployment.
The high rate of Ether being burned on Ropsten has reignited discussion regarding whether EIP-1559 will render Ethereum deflationary — where more ETH is destroyed than new supply enters into circulation — and what this could mean for Ethereum's price moving forward.
700 per day is the estimated low. Will burn 250000 ETH annually. Decreasing supply. 6000 per day will burn 2 million each year. Excited.

— Caesar's Palace (@CeasarBlue92) June 24, 2021
However, EIP-1559 is not the only upgrade that the community is looking forward to from London, with David Mihal of CryptoFees describing EIP-3074 as "fixing one of Ethereum's most overlooked security issues" to do with approvals.
One of the most overlooked security issues in Ethereum is ERC20 approvals.

I've given up on my push for ERC777 to fix this… Our next chance to fix this is EIP-3074.

3074 will allow a user to approve a transfer, execute an action, then revoke the approval all in 1 transaction. https://t.co/zk52JtYaAj

— David Mihal (@dmihal) June 24, 2021
Related: A London tour guide: What the EIP-1559 hard fork promises for Ethereum
Coincidentally or not, crypto data aggregator, CryptoQuant, identified that 100,000 Ether had been deposited into Eth2's staking contract around the same time as the launch, worth roughly $200 million.
CryptoQuant also noted that more than 5% of ETH's supply is currently locked in staking worth approximately $11.75 billion.
Over 100k ETH staked in ETH 2.0 yesterday

Read more in Quicktakehttps://t.co/XNyCB3wbQ6 pic.twitter.com/oovBdeIM2C

— CryptoQuant.com (@cryptoquant_com) June 24, 2021
Bitcoin hits $35K after Biden reveals infrastructure deal, Paraguay proposes BTC bill
Bitcoin (BTC)  price received a boost as news that lawmakers in Paraguay plan to present a bill to make BTC legal tender spread across Twitter. Shortly after the unconfirmed news surfaced on Twitter, Bitcoin price rallied to $35,289 before slightly pulling back below the key short-term resistance level. 
Congratulations Paraguay

• a bill has been submitted to make #BITCOIN legal tender

• reading likely to occur on July 14th

• they wish to be a crypto hub

• promotion of green energy mining

• some interest from Argentina & Brazil now too

— djThistle (@DJThistle01) June 24, 2021
While the cryptocurrency Fear and Greed Index still indicates a sentiment of Extreme Fear, it's worth noting that the measure has risen from 14 on June 23 to 22 on June 24 as traders begin to view the drop below $29,000 and Bitcoin's rising open interest as signs that the current corrective phase may have ended. 
While traders' sentiment may have improved slightly, Cointelegraph analyst Marcel Pechman suggested that investors could be waiting for the $6 billion in Bitcoin and Ether (ETH) quarterly futures and options to expire on June 25 before making a more decisive move.
Stocks reach new record highs, altcoins rally
The crypto market wasn't the only market to rally today. Traditional markets also rose to new highs after U.S. President Joe Biden revealed that he had reached an agreement on a $953 billion bipartisan infrastructure spending plan with the Senate.
Following the announcement, the S&P 500 and Nasdaq each rallied to new record intraday highs and closed the day up 24.65 points and 97.98 points respectively, while the Dow gained more than 322 points on the day. 
As one would expect, altcoins also surged higher as Bitcoin price and traditional markets moved higher. Ether (ETH) rallied back above the psychologically important $2,000 level, while Tron (TRX) and Celo gained 26% and 28% respectively. CELO's move appears to be driven by the listing of its Celo Euro (cEUR) stablecoin on KuCoin exchange. 
Prior to the recent price rise, VORTECS™ data from Cointelegraph Markets Pro began to detect a bullish outlook for CELO on June 22.
The VORTECS™ Score, exclusive to Cointelegraph, is an algorithmic comparison of historic and current market conditions derived from a combination of data points including market sentiment, trading volume, recent price movements and Twitter activity.
As seen in the chart above, the VORTECS™ Score for CELO climbed into the green and reached a high of 73 on June 22, one hour before its price began to spike 56% over the next day. The VORTECS™ Score turned green again on June 24, reaching a high of 74 as CELO began to rally another 25%.
The overall cryptocurrency market cap now stands at $1.4 trillion and Bitcoin's dominance rate is 46.6%.
The views and opinions expressed here are solely those of the author and do not necessarily reflect the views of Cointelegraph.com. Every investment and trading move involves risk, you should conduct your own research when making a decision.
Echoing Cuban, Novogratz says DeFi should 'play by the rules', or 'pay the piper' later
Decentralized finance (DeFi) has emerged in 2021 as one of the fastest-growing trends in the crypto sector and as the unique features of DeFi begin to work their way into traditional finance, executives from crypto and conventional business circles warn that regulation could be on the way if the protocols don't take steps to self-regulate. 
On June 23, Mike Novogratz, CEO of Galaxy Digital, warned that DeFi protocols will soon need to decide if they want to incorporate know-your-customer and anti-money-laundering procedures to gain acceptance from regulators or "pay the piper later."
Starting to think that major DEFI protocols are going to have to decide if they are going to play by the rules that most countries want them to (KYC/AML), or if they are going to flip the middle finger at them. Invest in a compliance layer now or pay the piper later.

— Mike Novogratz (@novogratz) June 23, 2021
 On June 17, billionaire investor and DeFi advocate Mark Cuban called for stablecoin regulation after losing money during the Iron Finance 'bank run', highlighting the growing calls for regulation in the Wild West world that is DeFi. 
In several follow-up tweets, Novogratz expounded upon his position and warned that governments have developed tools to help deal with this growing threat and that it would be wise to work with regulators for the long-term success of the ecosystem.
Novogratz said:
"It's not wise to think governments have no tools in their kit to go after the bad guys… they do. If we want this ecosystem to grow we need to recognize we need to operate within the rules society sets."
While the idea of adding KYC and AML features to DeFi goes against the ethos of anonymity and decentralization that many in the crypto community hold dear, it might be something worth considering as the number of DeFi users grows and scam projects proliferate on many protocols.
Related: Beware of 'soft rugs' — A growing menace in decentralized finance
Data from Glassnode shows that while the DeFi userbase continues to grow, the month-over-month gains have been declining lately, down from 25% gains in May and 18% gains in April. Currently, June is "on pace to do 12%."
As new users enter the ecosystem, it is important for them to have a positive first experience in order for them to want to continue to engage with DeFi protocols and it's possible that regulation and accountability could help.
Regarding user concerns related to privacy, Novogratz said that the latest protocol upgrades under development could make privacy and compliance a real-world possibility.
Novogratz said:
"Zero-knowledge compliance and other systems need to be developed for DeFi to scale. I am confident they will be."
The views and opinions expressed here are solely those of the author and do not necessarily reflect the views of Cointelegraph.com. Every investment and trading move involves risk, you should conduct your own research when making a decision.