Ethereum Drops Below Crucial Technical Pattern and Must Hold $430
Ethereum could undergo a stronger drop in the days ahead, analysts say, as the cryptocurrency slides below key support levels.
Ethereum Loses Key Support Level on a Short-Term Basis: Analysis
A crypto-asset analyst shared the chart below just recently, showing how the coin has moved below a rising wedge pattern. It is still in a decent spot on a weekly time frame though may face an intra-day pullback, the chart suggests.
"$ETH $ETHUSD #Ethereum – 1W Confirmed breakdown from the Rising Wedge But as long as ETH remains above $433 by Weekly Close… ETH would still be technically well-positioned on the Weekly timeframe It would just be a matter of getting that follow-through post-retest of $433." 
Chart of ETH's price action over the past few days with analysis by crypto trader Rekt capital (@RektCapital on Twitter)
Source: ETHUSD from TradingView.com
Also of concern, there appears to be a large amount of Ethereum selling pressure on leading exchanges as the price attempts to inch higher.
A number of analysts have shared charts over the recent days showing large sell walls that are limiting Ethereum's upside. A sell wall is a large block of sell orders that are situated around a single price level, preventing an asset from moving higher unless there is a considerable amount of buying volume in that market.
There are also charts showing that there is a large amount of sell-side liquidity or short-taking propensity in Huobi's Ethereum December futures market. On the matter, a trader said:
"kinda agree, Im hedging some of my DeFi exposure iva ETH, huobi whales have thick asks on quarterlies too so upside on ETH should be limited." 
Not All Hope Is Lost
The long-term trend still seems to favor bulls despite any weakness that may transpire over the near term.
One trader shared the chart below just recently. It shows Bitcoin's price action relative to Ethereum's price action over the past few years.
While the charts are mostly correlated, ETH and BTC have begun diverging over recent months as Bitcoin has taken the attention of most investors in the space. BTC is outpacing altcoins amid this move higher due to the strength of the move.
According to this fractal analysis, there is a good chance that Ethereum will surge dozens of percent in the weeks ahead so that it will catch up with bitcoin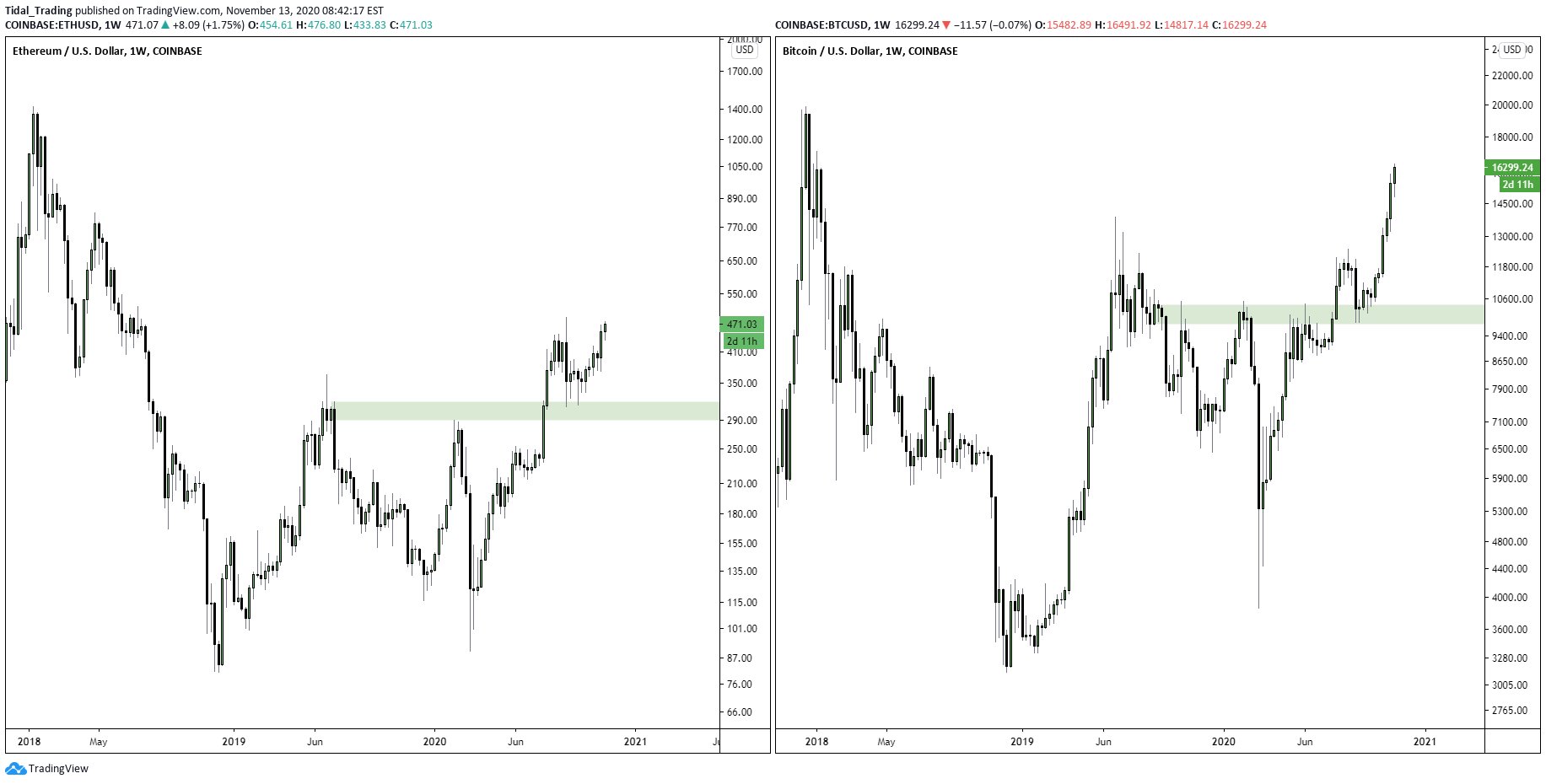 Chart of BTC's price action over the past few years with a fractal analysis to ETH's chart over the same time frame by crypto trader HornHairs.
Source: BTCUSD from TradingView.com
Featured Image from Shutterstock
Price tags: ethusd, ethbtc 
Charts from TradingView.com
Ethereum Drops Below Crucial Technical Pattern and Must Hold $430
Bank of Israel steps up CBDC efforts with reported tests on Ethereum
Israel's central bank has allegedly completed a pilot — under the radar — for a central bank digital currency (CBDC) using Ethereum's technology. The claim was made by the Israeli financial news site Globes and later reported by BNN Bloomberg.
Globes' sources for its claims are not disclosed: the report alleged that the Bank of Israel (BOI) completed its pilot in an experimental, closed environment based on Ethereum's architecture, involving the trial issuance of tokens representing digital shekels and their transfer between digital wallets. 
Globes also claimed that as part of its pilot, the BOI successfully tested its ability to program a car ownership certificate transfer using nonfungible digital tokens (NFTs) and completed a transaction wherein NFT payment was made the condition of the certificate's transfer and vice versa. The transaction was instantaneous without any risk or need for a central intermediary or trustee.
This application, the report stated, represents just one possible example of what payment services providers, tasked with providing digital wallets for the public, could be able to build. The BOI has reportedly asked industry actors to propose various smart applications that could prospectively be built upon the infrastructure of a future digital shekel.
Globes however contended that, broadly speaking, the central bank has not been forthcoming about its current experimental CBDC research. As reported by Cointelegraph, the BOI's deputy governor only revealed that a preliminary CBDC pilot was in fact already being conducted during a discussion held at the Fair Value Forum at Herzeliya IDC earlier this month. 
Globes characterized the deputy governor's concession as the result of his having been "pushed into a corner" and criticized the central bank for not reaching out to local industry sufficiently as it begins to investigate the highly complex issue of CBDCs.
The BOI did, however, publish an in-depth report last month outlining its analysis and examination of various alternatives and models for a prospective CBDC, all the while emphasizing that the document and its proposed draft CBDC model was only meant to serve as a basis for discussion, not as a blueprint: 
"This draft does not represent a decision of the Bank of Israel regarding the characteristics of the digital shekel, if issued. The draft model forms the basis for discussion and examination of alternatives by the working teams dealing with the issue at the Bank of Israel, and, following the publication of this document, it will also serve as a basis for discussion in the professional community in Israel about the characteristics required for the digital shekel."
Related: Israel's central bank floats possible digital shekel with new action plan
This engagement with CBDCs signals renewed momentum and interest in CBDCs at the institution, after a team led by former governor Dr. Karnit Flug had recommended against issuing a digital shekel in late 2018. 
While the BOI's report from May makes no mention of Ethereum, it does note that "the various opportunities that a digital shekel could offer for the innovation of the payments system in the Israeli economy include smart contracts, programmable money, and the like."
Nor does the BOI's report from May make any mention of either smart applications or NFTs. It does, however, note the possible benefits of using distributed ledger technologies as compared to existing, centralized technologies, for different parts of the digital shekel ecosystem. 
The bank's report also stressed the interdependence of developments in digital identity technologies and CBDCs and pointed to the benefits of conducting proofs-of-concept that could help the institution to gauge the relevance, risks and benefits of a digital shekel for the Israeli economy at large. 
Germany commemorates Euro 2020 soccer team with NFTs
The German Football Association (DFB) has officially announced the debut of national soccer team nonfungbile tokens (NFTs) in partnership with a major blockchain-based fantasy soccer game provider Sorare.
As part of an official license agreement, the DFB will create digital collectible cards on the Ethereum blockchain of 18 players on the German national team through Sorare's platform. According to an announcement from Sorare, the cards will be available for use in Sorare's Global Fantasy Football game for the Euro 2020 soccer championship.
By issuing player NFT cards on Sorare's platform, the DFB aims to find new revenue streams as well as provide more fan engagement opportunities, particularly as COVID-19-related restrictions have resulted in limited game attendance in recent months. 
Related: Crypto fan tokens a mixed bag for game-deprived soccer fans
"Especially in the Corona pandemic, digital offers were and are the only way to enter into direct exchange with our fans. But even though the Corona crisis will hopefully soon be over, we want to continue to use the possibilities of digitalization much more intensively, also with our partners, and offer our fans new interactive opportunities,"  said Holger Blask, the DFB's managing director of marketing and sales.
Founded in 2018, Sorare is a global fantasy football game that allows users to play with officially licensed digital cards featuring 140 football clubs including Liverpool, Real Madrid, Bayern Munich, Juventus and PSG. Last week, the French Football Federation launched its own series of player NFTs prior to the team's match against Germany.
Price analysis 6/21: BTC, ETH, BNB, ADA, XRP, DOGE, DOT, UNI, BCH, LTC
Bitcoin and altcoins are reaching critical support levels, but instead of buying the dip, traders are waiting to see if any bullish signals emerge.